Veeam
Availability Platform
The Next Generation of Availability
Veeam Availability Platform delivers the next generation of Availability for the Always-On Enterprise™, providing businesses and enterprises of all sizes with the means to ensure Availability for any application and any data, across any cloud infrastructure, through the following capabilities:
Non-Stop Business Continuity to instantly recover any app, any data, on any cloud
Digital Transformation Agility with multi-cloud data management and migration – choose your Cloud, your way
Analytics & Visibility with actionable insights for data management, operational performance, and compliance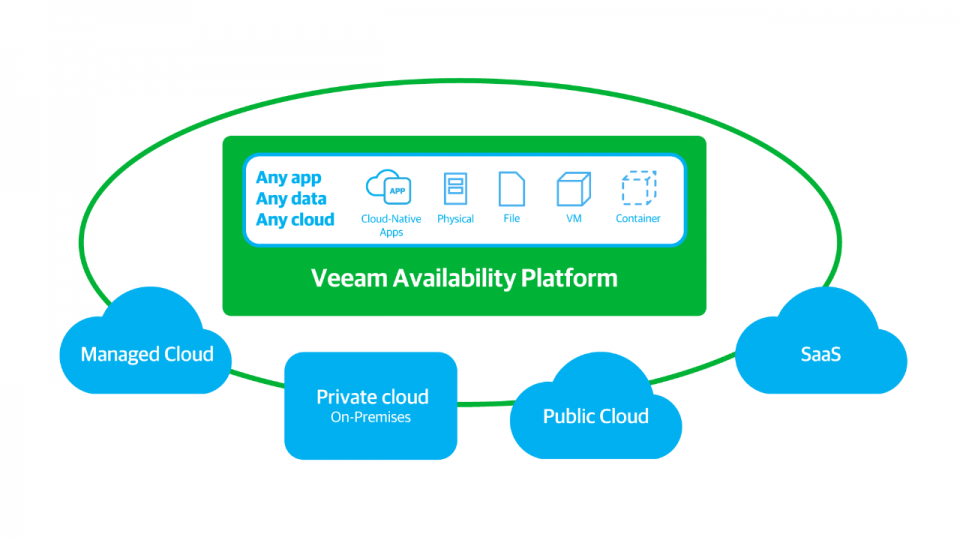 Veeam Agent for Microsoft Windows / Veeam Agent for Linux
Provides Availability for physical and cloud-based workloads hosted by Windows- or Linux-based servers.
Veeam Backup for Microsoft Office 365
Enables Microsoft Office 365 backup and recovery, allowing you to maintain access to your email data.
Veeam Availability for AWS
Provides Availability for AWS cloud-based workloads via backup and recovery of AWS EC2 instances.
Veeam Availability Orchestrator
Delivers DR orchestration of Veeam backups and replicas.
Veeam Availability Console
Management platform for service providers and distributed enterprises; brings all-in-one management and visibility for virtual, physical and cloud-based workloads.
Veeam's key underpinning technology; enables workloads and data to move among on-premises and cloud-based locations.